Centrífugas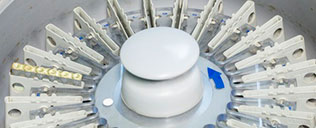 32 Compañías | 95 productos médicos
The QBC capillary centrifuge for dry hematology or immunology is designed for use with the QBC AccuTube and has a 20 tube capacity along with a nominal speed of 12,000 rpm (± 80 rpm). The lightweight and ultra-compact device offers preset runtime and speed and comes with an electro-mechanical safety interlock lid which must be closed and latched before the motor can be energized.
Mas detalles

The EW-83058-02 centrifuge includes a fixed angle rotor to spin tubes up to 10 mL and is available in fixed or variable speed models. It features a 30-minute timer, suction cup rubber feet which firmly anchors it to the benchtop, and a stainless steel guard bowl to protect against spills.
Mas detalles

The CAPPRondo mini centrifuge is equipped with maintenance free drive and has a centrifugation power of 15,000 RPM, corresponding to 15596 g, along with an imbalance detection feature that notifies the user when the tubes have been loaded unevenly. It comes with a 12 slot closed rotor made of aluminum and has a screw on metal lid, accommodating 1.5/2 mL tubes, and a lid lock safety brake system to prevent the lid from accidental opening until the rotor stops completely.
Mas detalles