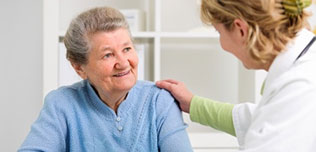 97 Compañías | 340 productos médicos
SpiroCare is an all-in-one lung testing solution featuring a unique infection-free disposable paper mouthpiece solution that supports comprehensive test modes. It comes with a 7-inch color TFT touch with 800 X 480 resolution screen with six functional keys for easy-workflow, along with easy candle-light guide for testing accuracy.
Mas detalles
The VistOR PRO LED exam and procedure light for examination rooms with its large diameter LED array provides excellent shadow control – even with just a single light head. Pressing the center button on the sterilizable handle allows 5-stage dimming plus ambient light mode (for minimally-invasive procedures) for easy management of brightness within the illumination field. The VistOR Series offers a selection of three different-sized lights and provides unparalleled optics for ambulatory surgery centers, procedure rooms, trauma rooms, clinics and physician office.
Mas detalles

The PAM-3H is a 3-function, full electric hospital ICU bed equipped with a memory foam waterproof mattress, adjustable head and foot sections, and adjustable height and knee sections. All the functions can be conveniently managed by a durable but touch-sensitive ergonomic hand pendent. The bed also features a central locking system, brake pedal and 6″ aluminum casters with bearings that perform well on hard surfaces such as concrete, tile, and wood.
Mas detalles