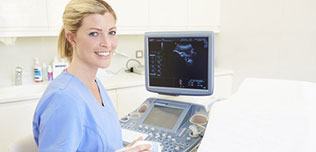 94 Compañías | 553 productos médicos
The new improved Model 769 Doppler Flow Pump, is compatible with both its ATS Urethane flow phantoms as well as its new Model 069A Zerdine flow phantom and provides a complete solution for QA testing of Doppler ultrasound devices.
Mas detalles

The Sonicaid D920/D930 waterproof audio Dopplers are available with fixed 2 or 3MHz high sensitivity waterproof probes that provide excellent audio quality and ensure easy and reliable detection throughout pregnancy. Other features include low battery indicator, easy clean transducer for improved infection control, and a belt clip to aid handling.
Mas detalles

The ARIETTA 65 ultrasound system has been designed to perform quick and precise diagnosis in general imaging without compromising on productivity and workflow. It combines productivity, enhanced tools and technology to provide smooth workflow and productivity, superb imaging and accurate diagnosis, and simple to use applications and streamlined practice.
Mas detalles