Sistemas de ventilación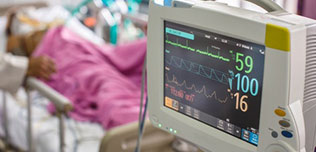 48 Compañías | 117 productos médicos
The NF5 high flow heated respiratory humidifier uses smart temp and humidity monitoring and closed-loop feedback mechanism to provide patients with accurate high-flow nasal O2 therapy (HFNC), which has greater advantages over conventional O2 therapy. Its 2-80L/min wide range flow control can effectively flush the dead space (physiology), avoid CO2 retention, meet the treatment requirement of both infants and adults, clinically suitable for patients at different ages.
Mas detalles
The V3 multifunctional ventilator is a turbine based respiratory support platform that can handle a variety of scenarios, including bedside ventilation and intra-hospital transport. V3 has a comprehensive range of ventilation modes and special features that meet the requirements of intensive care respiratory therapy, making it suitable for respiratory management of severe coronavirus COVID-19 pneumonia.
Mas detalles
The software update v3.0.x brings many new features and improvements to the HAMILTON-C1, HAMILTON-T1, and HAMILTON-MR1 ventilators that combine big performance with a compact size, making them ideal companions for all patient groups in different applications.
Mas detalles