Oxímetros de pulso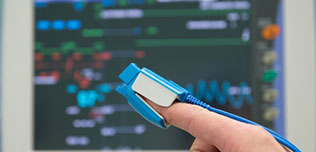 13 Compañías | 30 productos médicos
The Smartsigns MiniPulse is a handheld pulse oximeter has been designed to provide clinicians with fast, reliable, portable measurements in almost any setting. With a choice of two lightweight handheld models, it is ideal for both spot checking and continuous monitoring of adult, pediatric and neonatal patients.
Mas detalles

The iV-3c is a hand-held pulse oximeter with capnograph for monitoring Sp02, PI, PR and C02 parameters and features a numeric display with plethysmogram display. It offers continuous monitoring/spot check, adjustable audio & visual alarm, automatic standby and power off, and Wi-Fi option for data transmission.
Mas detalles
The iV-03 is a reliable and portable pulse oximeter that monitors parameters such as SpO2, PI, PR and normal temperature and features a numerical display with plethysmograph display. It offers eight hours of continuous use and is highly accurate with reliable data even in low perfusion states, making it ideal for hospitals, clinics and nursing homes.
Mas detalles