Electrocardiógrafos (ECG / EKG)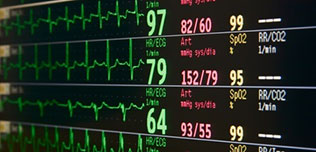 35 Compañías | 88 productos médicos
The CM1200 is a 12-channel ECG machine featuring a 12.1-inch color TFT touchscreen for multi-angle observation and a hand-writing pen for easier operation control and quicker information input. It offers selectable multi-language interfaces and multi-size recording paper, along with intellectualized recording calibration system to solve any ECG paper jam, paper deflection problems.
Mas detalles
The H3 is a 3-channel electrocardiograph machine that offers a 6.2-inch LCD touch screen (resolution 800×480), 3×4 and 6×2 display formats, and simultaneously display of 12- lead waveforms. It features an intelligent brightness sensor for automatic adjustment of screen brightness and can store 40,000 ECG built-in records in a binary image format.
Mas detalles
The CM600 is a six-channel ECG machine featuring the advanced Comen ECG Diagnostic and Analyzing Software, ensuring the accuracy and authority of automatic analysis. Its intelligent paper calibration function resolves the problem of paper jam and paper deflection.
Mas detalles