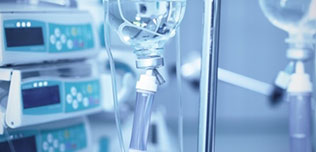 199 Compañías | 1029 productos médicos
The 3M Clean-Trace ATP Cleaning Monitoring System is a rapid cleaning efficacy monitoring tool that measures the cleanliness of medical devices, endoscopes, and environmental surfaces and can quantify the cleanliness of a surface or lumen sample in just 30 seconds. With the integrated software, it can track a facility's data, generate reports, identify issues, and focus process improvement efforts where they are needed most.
Mas detalles
The 3M Bair Hugger temperature monitoring system provides a non-invasive, accurate temperature measuring method that can be used perioperatively and in any type of anesthesia. It offers an easy, non-invasive, continuous method to accurately measure core temperature throughout the perioperative journey.
Mas detalles
The UM-211 is an all-in-one blood pressure monitor designed for multi-purpose use in hospitals and is available for dual measurement mode, auscultatory mode with use of the stethoscope and oscillometric mode. Its auscultatory mode is designed for daily and frequent use, and comes with selectable deflation speed (2.5mmHg /sec. or 5.0mmHg / sec.) and quick start features.
Mas detalles