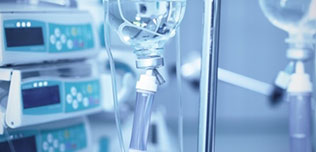 194 Compañías | 899 productos médicos
The Schnozzle nasal irrigation adapter for irrigation of the nasal passages of kids and adults is designed to flush out the nasal passages of patients so they can breathe more easily. It eliminates the need for frequent suctioning which does not adequately clear the nasal passages and can be traumatic.
Mas detalles

The Avoximeter 4000 is a portable whole blood co-oximeter that provides rapid, accurate assessment of true oxygenation status at the bedside in less than 10 seconds. It can be used in the ER to assess carbon monoxide toxicity, in the NICU to confirm the presence of methemoglobin following nitric oxide therapy, or in other critical cCare applications.
Mas detalles
Segunda mano
GE Aisys Carestation controla y mide digitalmente la ventilación, la vaporización y el suministro de gas. Con un diseño modular con componentes actualizables, sus pantallas están unidas a un brazo móvil con rotación de 360 grados.
Mas detalles