Pruebas Rápidas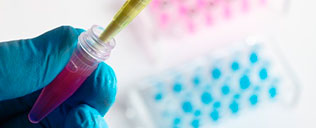 250 Compañías | 1366 productos médicos
The LIAISON MeMed BV test is the first fully automated solution, which utilizes host response-based data to enable physicians to differentiate accurately between bacterial and viral infections, supporting fast and better-informed treatment and patient management decisions. From a simple serological sample, it automatically measures, analyzes and integrates the levels of three host immune proteins into a single and simple score, showing the likelihood of a bacterial immune response or co-infection versus a likely viral immune response. The high-throughput, high-quality chemiluminescent assay easily identifies the source of a patient's infection using the LIAISON XL automatic analyzer.
Mas detalles

The SARS-CoV-2 Ag Diagnostic Test kit (Colloidal Gold) is an easy-to-use test that utilizes the standard lateral flow test cassette for the detection of SARS-CoV-2 virus antigen. The test kit is based on colloidal gold immunoassay technology and provides reliable visual results after 10 minutes. It is an ideal solution for fast and qualitative results in patients with onset of symptoms between 0-7 days.
Mas detalles
OSNA – One Step Nucleic Acid Amplification – is an automated molecular diagnostic assay that analyses the entire lymph node tissue. The reaction is based on rapid nucleic acid amplification technology (RT-LAMP) to quantify Cytokeratin 19 (CK19) mRNA expression. CK19 is an epithelial cell marker and is normally not present in lymph node tissue. The expression rate of CK19 mRNA correlates with the size of the metastatic foci.
Mas detalles