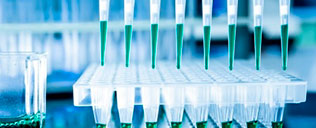 363 Compañías | 2940 productos médicos
The Biomerica Calprotectin test is a rapid chromatographic immunoassay for the qualitative detection of Calprotectin in human stool samples. It can be useful for the diagnosis of inflammatory gastrointestinal disorders.
Mas detalles
The Calcitonin ELISA is an FDA-cleared ELISA kit that is intended for the quantitative determination of Calcitonin in human serum. The four-hour ELISA is designed for in vitro diagnostic use and is used to diagnose cancer of the thyroid and as an adjunct for the monitoring of osteoporosis (bone loss) of a patient.
Mas detalles
The new XP gene amplification instrument is a multi-functional, multi-purpose PCR instrument that meets the requirements of different PCR reaction tube, different number of holes and different types of PCR experiments. Its large screen display and interface make operation more simple and easy to understand, while its powerful software automatically identifies the module unit without the need for manual setting.
Mas detalles