Desechables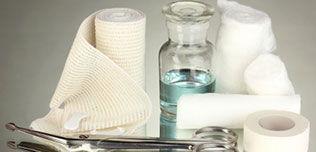 9 Compañías | 40 productos médicos
The 3M Wound Cleanser is a non-antimicrobial, no-rinse liquid with a zinc-nutrient formulation that provides a moist, mildly acidic environment conducive to wound healing. It is available in a single patient multi-dose unit, designed to cleanse partial and full thickness ulcers and dermal wounds, including pressure ulcers and open surgical incisions.
Mas detalles
The 3M Tegaderm High Performance Foam Non-Adhesive Dressing has a unique multi-layer design that provides high absorbency with high breathability to reduce the risk of maceration. It demonstrates high fluid handling capacity under compression and adapts to changing levels of exudate to maintain moisture balance for optimal wound healing.
Mas detalles
The Cavilon No Sting Barrier Film guards skin from the outside in- and is a solution for many skin problems including, medical adhesive-related skin injury (MARSI). It is patient friendly as its alcohol-free, hypoallergenic formula does not sting or irritate the skin and can be used on intact or damaged skin.
Mas detalles