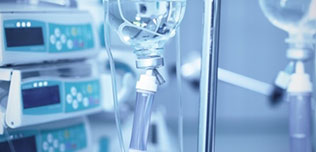 199 Compañías | 1029 productos médicos
The PRIZM7 is the world's only double-decked multi-parameter patient monitor that comes with ECG+NIBP+SpO+Respiration+IBP+Temp+built-in EtCO. Featuring a bedside mounting handle attached design, it has a double 7-inch wide high resolution TFT color screen and offers a variety of parameter choices.
Mas detalles
The CHARM II is a handy, fast, easy & reliable fingertip pulse oximeter for adults and pediatrics that uses Nonin compatible technology. It features extra long battery lasting circuit (20 hrs with a new set of AAA alkaline battery), auto power ON/OFF and a handy neck string.
Mas detalles
The pneumos500 is a portable spirometer that can measure the most important respiratory parameters such as FVC, VC and MVV. Compact and lightweight, simple to use, it comes with a 3.3-inch touchscreen color display and used ultrasonic technology that makes it particularly reliable.
Mas detalles