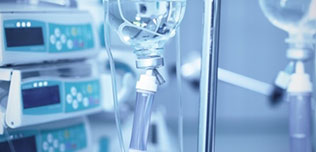 199 Compañías | 1029 productos médicos
The PhysioLITE II is a therapeutic ultrasound wave device that generates deep heat through ultrasound energy and can provide a wide range of pain management treatments. It is equipped with a bright LED screen, head-warming feature on an ergonomically-designed sound head for increased patient comfort.
Mas detalles
The PhysioPRO II portable pulse wave therapy for pain management stimulates metabolism, enhances blood circulation, and accelerates the healing process. It allows damaged tissues to regenerate and recover, and can be controlled manually or remotely by app for phone or tablet.
Mas detalles
The MEDUVENT Standard is one of the smallest turbine-driven ventilators in the world, featuring innovative turbine technology that maintains ventilation even without an external oxygen supply and also boasts of a flexible oxygen supply. It can ventilate a patient completely without an external gas supply, and offers a quick and safe way to start ventilation by providing the option of selecting an emergency mode or entering the patient's height.
Mas detalles