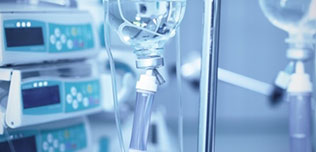 199 Compañías | 1029 productos médicos
The Elios lamp has been designed to integrate intensive phototherapy and heating treatment of newborns who can be placed in beds, changing tables and neonatal treatment tables, with everything integrated for use and control by an electronic micro-processor controlled control module. It is equipped with an infrared radiant heating element for heating, six high efficiency blue power LEDs for intensive phototherapy treatment and four high-efficiency white power LEDs for illumination and inspection of the newborn.
Mas detalles
The GIULIA V3 intensive therapy ventilator offers VTV and HHFNC in addition to the synchronized and non-synchronized existing ventilation modes. It features different and dedicated flow sensors for invasive and non-invasive ventilation modalities, making it ideal for newborns, including low birth weight and premature ones.
Mas detalles
The FC-1700 is a portable defibrillator monitor with a lightweight and compact design and featuring a 5.5-inch color LCD monitor that allows for clear and easy ECG monitoring. Its built-in recorder is automatically activated upon energy discharge and/or alarm and its voice guidance provides the instrument status.
Mas detalles