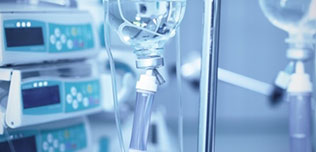 200 Compañías | 1016 productos médicos
The Artemis 4 Doppler ultrasound fetal monitor features a 10.2-inch color TFT for digital display and waveform oscilloscope of twin heart rate (FHR) and uterine contraction pressure (TOCO) value. It is configured with a special HR self correlation reading algorithm to ensure correct and reliable FHR measurement.
Mas detalles
The Classic-90PRO patient monitor is provides functions such as continuous monitoring, real-time recording and display of vital physiological parameters, including SpO2, PR and NIBP. It is designed with a large and bright LED display for the SpO2, PR and NIBP values, and a high resolution LCD display is available for showing the plethysmogram and system information.
Mas detalles
The VentMeter gas flow analyzer ensures the safety and reliability of ventilators with traceable standard calibration (RCB) and simple operation and handling. It features the PulmoTrend software which maintains a performance record of the ventilator.
Mas detalles