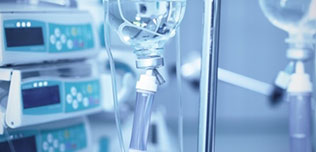 200 Compañías | 1016 productos médicos
The C90 modular patient monitor features the world's leading vitals monitoring and IT application technology to provide the most comprehensive monitoring solution. C90 is indispensable in the ICU after surgery as it can update doctors in the monitoring centre and sound the alarm whenever there is a condition.
Mas detalles
The C80 patient monitor offers leading ECG technology, anti-motion & week perfusion SpO2 technology as well as accurate NIBP measurement, along with features such as a 12.1-inch LED touch screen, fixed handle, various mounting solutions and a writing pen. Designed to optimize performance by configuring Etco2, AG, BIS and impedance cardiography monitoring into one system, C80 helps to take care of even the most critical patients.
Mas detalles
The DEFIGARD HD-7 is an easy-to-use defibrillator/monitor that is designed to be intuitive, with a large 7-inch touch screen as well as its one-step mode selector. Available with defibrillation paddles or pads, the DEFIGARD HD-7's Touch n Save interface allows direct access to the desired feature without losing time. It takes connectivity a step further to simplify the medical team's work by automatically transmitting self-test results and facilitating device pool management with its remote software and configuration updates. Specifications: • 4 modes: monitoring, manual defibrillation, AED and pacer • Single connector for defibrillation paddles or pads • CPR Feedback • USB and Wi-Fi data transmission • Remote software and configuration updates • Automatic self-test transmission • Large 7-inch touchscreen • 6-lead ECG: SCHILLER technology • Non-Invasive Blood Pressure: SCHILLER technology • SpO2: MASIMO or Nellcor technology • EtCO2: MASIMO technology (side stream) • Integrated large 3-channel printer
Mas detalles