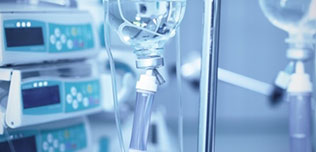 200 Compañías | 1025 productos médicos
The MP-30 is smart and easy to use 1-channel syringe pump with innovative touch operation, quick response to various settings and multiple infusion modes. Featuring a plug-in and modular design, it features a dose error reduction system and allows 3 to 15 pumps to be combined optionally to meet various clinical needs.
Mas detalles
La HP 30 Neo se usa para administrar pequeñas dosis de medicamentos usando una variedad de tamaños de jeringas en entornos de cuidados agudos. Es reconocida por la entrega segura de medicamentos a pacientes en pediatría y UCIN, UCC y salas de cirugía de adultos.
Mas detalles
El NAVI-60 proporciona una imagen exacta en tiempo real de la vasculatura en la superficie de la piel. Beneficia a los hospitales al reducir los costos de atención médica, mejorar el control de infecciones y aumentar la seguridad y satisfacción de los pacientes.
Mas detalles